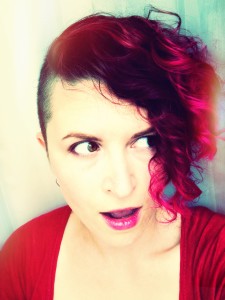 Hiya. I'm M.S.K., or Meredith Scheff-King, or Meredith. Sometimes just 'Mer'. I'm also known around the web as LadyCartoonist.
I'm a creative polyglot. I've worked in  rapid prototyping, illustration, cartooning, experimental music, electronics, interactive hardware, E-Textiles, woodworking, large scale metal art, digital fabrication, and traditional crafts. I basically just love making things, and will go gung-ho over any project that is exciting, or at least funny.
My work has been shown in the New York Times, MAKE magazine, SFMoMA, Portland Museum of Art, and The Exploratorium.
My content design clients include RadioShack, Popular Mechanics, Facebook, BurningMan LLC, and others.
I was an Artist in Residence at Autodesk's Pier 9 workshop in San Francisco,a visiting lecturer at University of Illinois Urbana-Champagne, and Artist-in-residence at PlanetLabs.
I'm based in San Francisco and am available for adventure and contracts.